Garden Concert 2017
SUNDAY Aug 13 1-4PM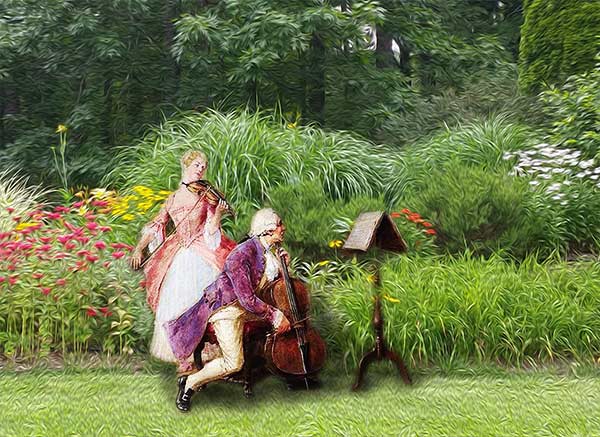 Floral Symphony

in four movements
Rhapsodie in Green (vegetable gardens)
Organic Obbligatos (orchard)
Perennial Ballads (mature perennial gardens)
Chromatic Cultivars (flute/harpsichord classical music outside in gardens)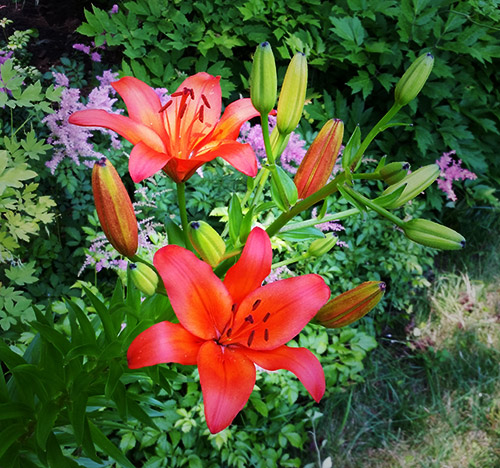 All photos this page: July-August 2015 ©Will Sherwood
2017 CONCERT Sunday Aug 13
Performing: Alesia Tringale, soprano; Madeline Browning, flute&recorder; Anthony Ho, recorder; Jerry Bellows, recorder; Patrick Chatham, cello; Will Sherwood, harpsichord
2:00 Peter Krasinski, organist, performing complete Enigma Variations (Elgar)
2:40, 3:00, 3:30 Chamber Music in the Perennial Gardens with Harpsichord
Handel Sonata in D #4 for Recorder & Violin & BC (15 min)
Johann Fredrich Fasch Sonata in G for flute, two recorders and continuo
Johann Christoph Pepusch Sonata for Soprano, Recorder, Harpsichord & Cello
Telemann "Lauter Wonne" -- 2 arias for soprano, flute, and chamber instruments
Handel Violin Sonata in D
Bach Suite for Solo Cello
Vivaldi Cello Sonata #3 in A minor
RSVP <-- click
It is mid summer in Central New England and the air is still warm, perfect for wafting melodies through the meadows.
Our apricots, peaches, and plums all got hit by a frost in April, killing the blossoms. Apples and pears are not as bounteous this year either.
But our heartfelt music will surely satisfy your appetite for the fine arts among the beautiful grounds.

We hope you'll enjoy strolling around our gardens which have been
organically nourished by the (mostly!) sweet sounds of practicing throughout the seasons.



Garden Tour with freshly picked melodies every half hour
Sherwood-Bershad Residence, Sterling
ACTIVATED --> Rain Date Sunday Aug 13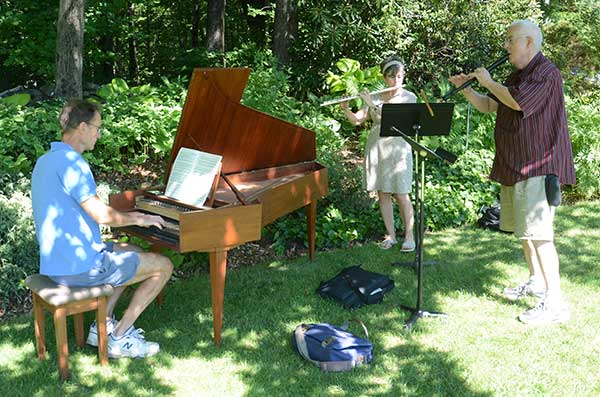 Rehearsing in the perennial garden ellipse


Click above parorama image for 360-viewer of gardens (use your mouse to drag the image to move the viewpoint around; mouse wheel zooms in/out) (don't get dizzy!)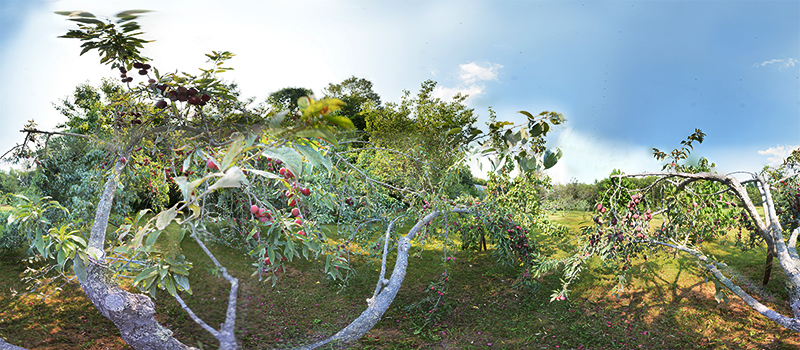 Click to view (moveable) 360 panorama from the viewpoint of the center of a plum tree
- Sadly this tree was subject to a disease and had to be cut down but its 360 view lives on here.


View from corner of house looking out to the entrance of the perennial garden area and left background hay field
Freewill donation for 1st U Encore Music Fund & WorcAGO Scholarship Fund RSVP <-- click
Online Donations: if you're unable to attend but want to support via credit card. 1st U Encore Fund AGO Scholarship Fund
This is a mostly outdoor event - we request you respect our private residence, and only enter our home for restroom and the mini-concerts (piano and pipe organ).
We work hard to maintain our organic living environment, please respect our non-smoking property. Our wildlife appreciates it too!
Additional gardening/project details: Our organic/environmental approaches, drip irrigation system & field well, orchard techniques/grafting, orchard varmints/maladies, squirrel-proof (really!) bird feeders, firewood storage, sine-wave-structured tomato trellis support, seedsaving, winemaking/yogurt making/soap/cheese making, cane-borers for blueberries/rhododenrons.
Parking: please use our field parking lot (signs and attendant will guide you; the grass walkway is about 500 ft.), with signs for HC/shorter-walk drop-off at the house.
Please contact us for HC accessibility details - the house is somewhat accessible (not completely ADA compliant tho) - the lawns can be a little bumpy here and there, but navigable. All are welcomed!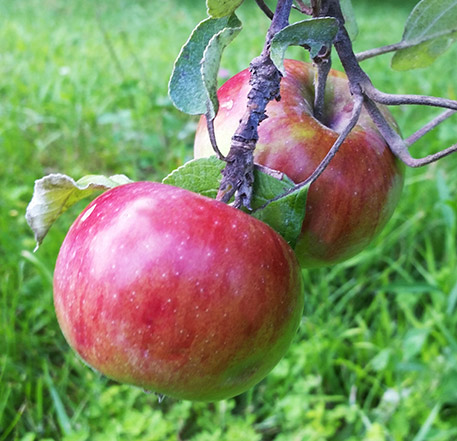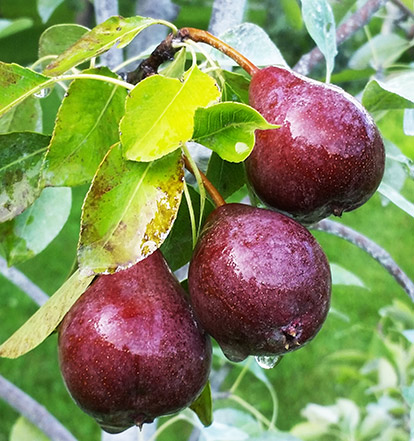 Guides: A Perennial Docent/Guide may be available to help with any questions about our perennial gardens and orchard. A handout will have maps of the orchards, perennials, vegetable garden, and pipe organ specs.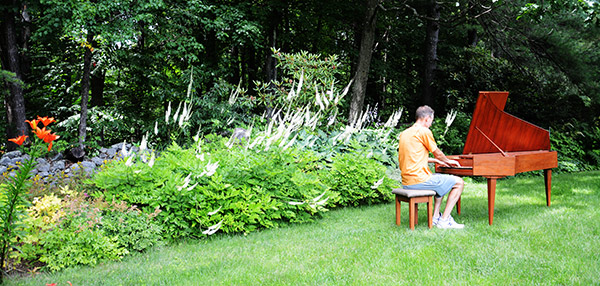 Music: About every half hour, various instruments will be featured in a short concert. Of particular note will be flute/recorder/harpsichord/cello in the Perennial Ellipse (pictured above).

Inside, the JW Walker 20-rank pipe organ and newly refurbished 9' Steinway D will also be highlighted.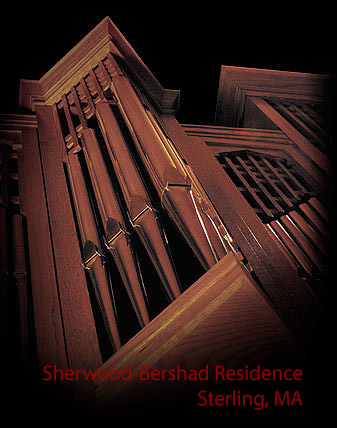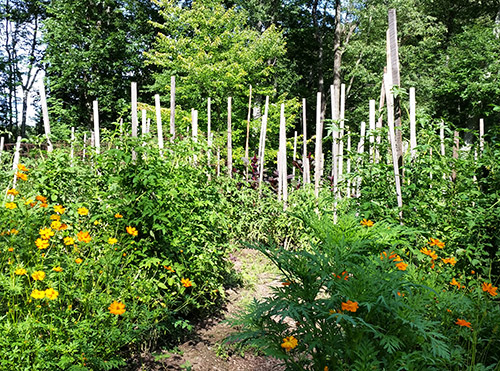 Vegetable Gardens: Tomatoes will be invading in a few weeks (150+ plants/35 varieties); Garlic was already harvested (1200+ plants/21 varieties); Weeds are featured year-round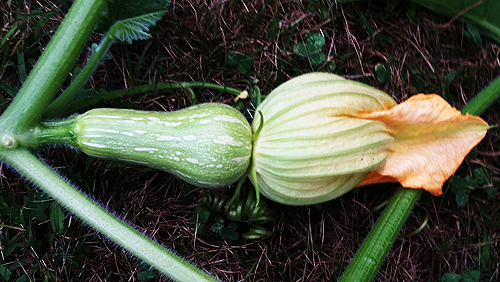 Butternut Squash (from Tom Toeppner's seed saving)
Enjoy our all-organic, non-smoking grounds. RSVP
1st U & WorcAGO Fall Concert Series:
Calendar being prepared now.

More Information:
Residence Pipe Organs (pipe organ specs for our instruments)
WorcAGO Scholarships
1st U Encore Fund, Artists in Residence
Online Donation link if you're unable to attend but want to support via credit card.
Party Wall Invitation Collection (previous event invitation creations)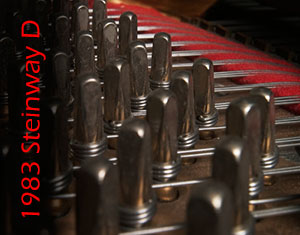 We have one of three (ever) 9' Steinway concert grands that were built factory WHITE; when we acquired it in 1995, we had it refinished standard ebony.
Also at that time it was completely rebuilt (new strings, hammers, action) because it had been in a condo on the ocean for over 10 years, and this year we've replaced the hammers and had an action overhaul.
FRUIT TREE ORCHARD MAP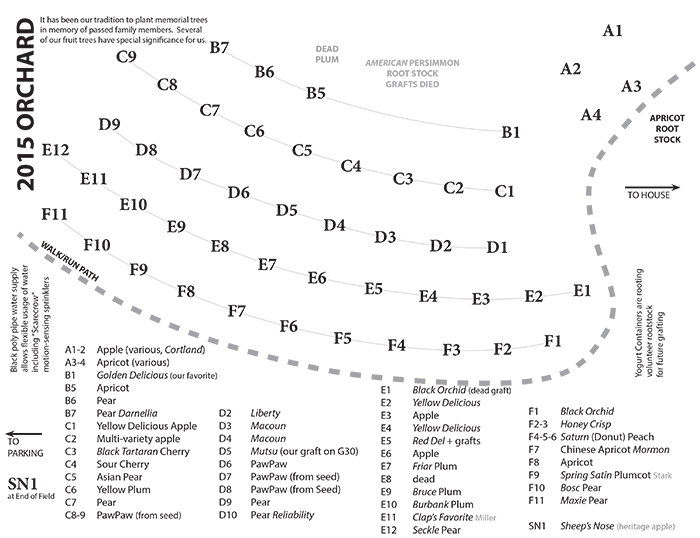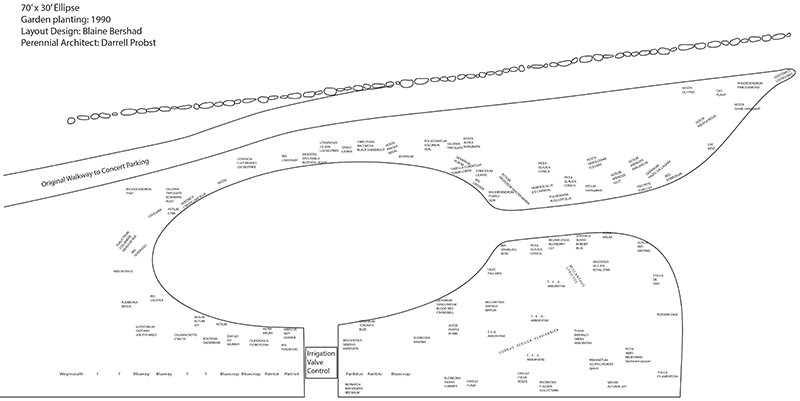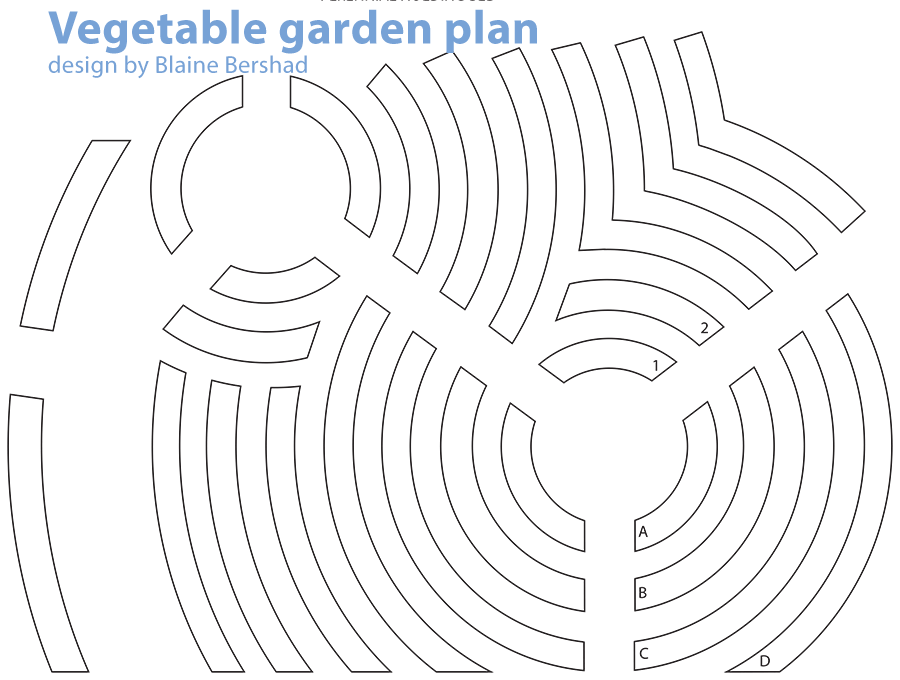 Two sets of concentric circles of 3' raised beds and 3' aisles. Companion planting/flowers at endcaps of most rows. Image above taken from the end of Rows C+D (tomatoes this year)