Residential Pipe Organs in Central Massachusetts - Five home instruments listed

Sherwood-Bershad Residence: JW Walker 1988 Mechanical Action Pipe Organ
2 Manual, 20 ranks/997 pipes + additional 10 ranks (rebuilt/revoiced 1919 Estey Op. 1677 - 605 pipes) - total 30 ranks/1602 pipes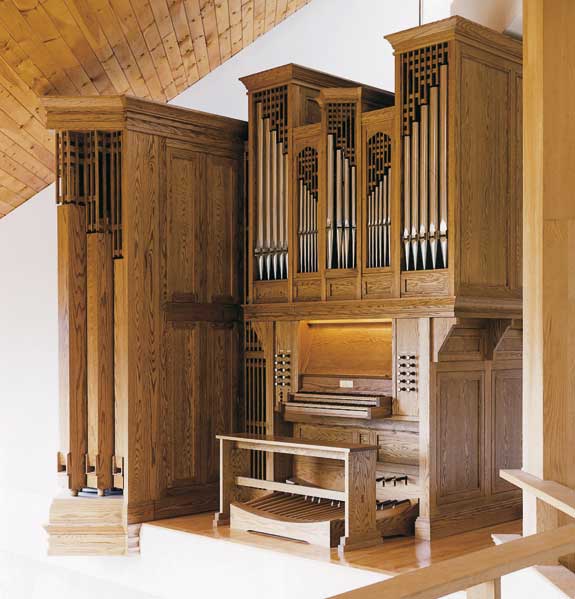 J W Walker tracker instrument on first balcony, larger than those in many churches.
Specifications
Great
Open Flute 8
Principal 4 (partially in facade)
Flageolet 2
Sesquialtera II (122 pipes)
Mixture III (1 1/3, 183 pipes)
Tremulant (both manuals, on one chest)
Swell (under expression, balanced swell pedal)
Chimney Flute 8
Spireflute 4
Octave 2
Larigot 1 1/3
Trumpet 8
Pedal (in pedal tower)
Bourdon 16
Bass Flute 8 (ext)
Choral Bass 4
Mixture III
Bassoon 16

Couplers
Swell/Great (toe lever)
Swell/Pedal (toe lever)
Great/Pedal (toe lever)
Swell 16' (sub) (drawknob only)
Manual compass 61 notes
Pedal compass 32 notes, radiating pedalboard
Antiphonal (1919 Estey Op 1677 (originall tubular pneumatic), direct electric, operated via key contacts within Walker console; chests mostly located on top balcony)
Tilting tablet stop control (Syndyne multiplex "relay"); when stop controls are rotated into operable position, Walker nameplate rotates out of view, by builder's intention.

Principal 8 ("Open Diapason" Scale 43; new languids, lower cut-up; original two lowest C, C# haskell; 12 pipes from original facade, paint stripped; remainder of facade was non speaking)
Octave 4 (new languids, rescaled/rebuilt from harmonic flute 4)
Festival Melodia 8 (de nicked)
WeoFlute 8 (de-nicked)
Rohr Flute 4 (stoppers drilled)
Principal 4 (added, not Estey)
Oboe (labial/reedless) 8 (untouched)
Salicional 8 (two strings were re-scaled by 6 pipes larger)
Voix Celeste 8 (61 pipes)
Tremolo (Peterson eccentric)
Bourdon 16-8-4 (original 30 notes unaltered; extended to 32 notes and 8,4')
Second blower added 2015 to fortify winding of Antiphonal.

View from the top balcony pipe chamber (rebuilt Estey pipes) looking down
---
Other Instruments in Central Mass. . .
Residence Organ in Lancaster Massachusetts (1992 J W Walker II/3)

8' (always on, both manuals)
4' Swell
2' Great
II - I Coupler Drawknob
II - Pedal Coupler (always on)
Chamber doors provide expression manually.
Manual compass 58 notes
Pedal compass 30 notes, ISO pedalboard
---
Residence Organ in Sterling Massachusetts (1870 S S Hamill I/7)
Residence: David Hagberg    
Original Organ by S. S. Hamill  
Revised and modified    
Pedal  
Subbass 16 
   
Manual  
Open Diapason 8'  
Melodia 8'   
Dulciana (really the "spec Gamba") 8'   
Unison Bass 8'   
Violina 4'   
Fifteenth 2'   
Oboe (tc) 8'  


More information

---
Residence Organ in Worcester-area Massachusetts (2013 Bigelow Op. 34 II/5)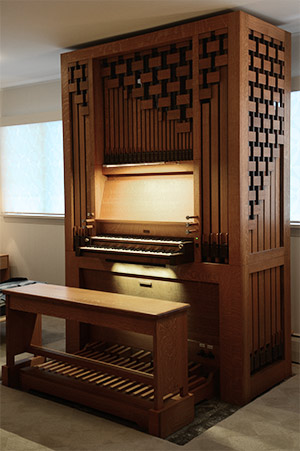 During reinstallation in Worcester area home, several bass pipes that had originally been on the top of the case were moved to behind the case due to ceiling height limitations.
Op 34 Specs - originally built for a Florida Residence; relocated to MA in 2015
---
Residence Organ in Worcester Massachusetts