2023
CUSTOM-DESIGNED CALENDARS AND
HOLIDAY CARDS
(and optional envelopes)


Promotional products
for marketing your business


CUSTOM DESIGNS
(based on your specs & logo)

. . . BY SHERWOODPHOTO & GRAPHICS



(978)-286-1083
Wide/Tall postcard (still U.S. Postal "standard size") 6" by 11"
Samples of Designs - everything is custom, so you can choose how you like it.
Simple/sleek design with highlighted dates showing your events: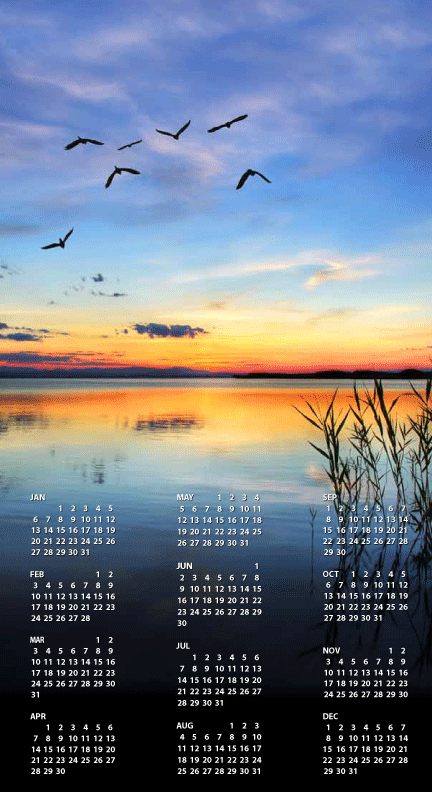 The above flower image is a cactus bloom (it bloomed last August, in the evening, for only about four hours; photo by Will Sherwood)
Sample 6x9" Horizontal Layout Cards: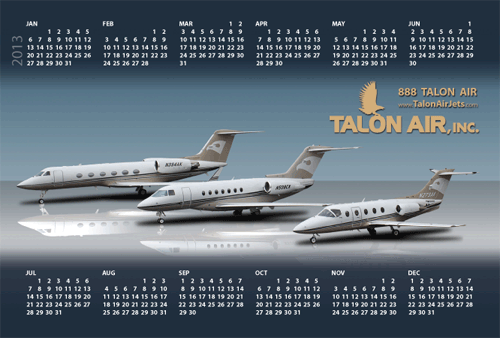 Sample 6x9" Vertical Layout Cards: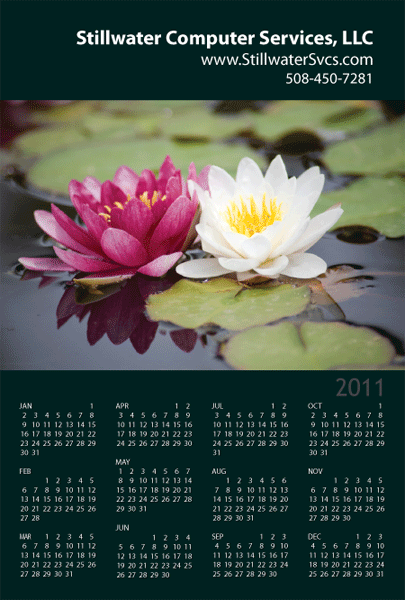 Example 6x9 custom card (sample with 2009 holidays colored):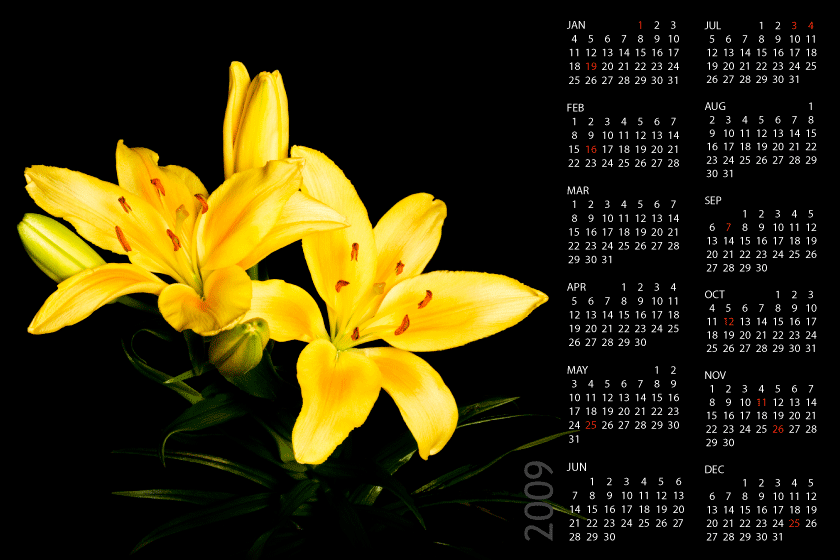 Catchy image can encourage hanging on a conspicuous office wall to gain year-around advertising. Add your logo if you like.
---
SHERWOODPHOTO GRAPHIC DESIGN
---
2013 CALENDAR DESIGN INFORMATION
We are flexible to meet your needs:
We can design a card or calendar based on
our stock images or your own images & logo .
We can add the calendar text for your custom layout needs
and/or prepare your files for offset printing
Or you supply all the digital files(PDF preferred) and we will print it.
Turn-around time (from proof approval):
usually one week including ground shipping. Shipping upgrades available.
Samples available by Priority Mail on request
Cards are printed on 14pt heavy card stock, and there's no charge for Aqueous Coating (glossy) both sides. Full color & Full bleeds both sides.
Our offset printer vendor does a gorgeous job! Very professional.
Custom layout ("setup") is by the hour; stock photos are by the photo.
Calendars can be oriented any way you wish, even spanning more than one year (e.g., 18 months)
Tips:
Select a compelling image that people will WANT to hang on their office walls (or "refrigerator"). Reds and yellows stand out.
Often nature (flowers especially) are a good pick, or something interesting from your products or services
The images would need to be 300dpi (high resolution) for proper printing. We're happy to help you select.
Pick a contrasting background so that aside from the calendar function, people's eyes will be pulled to look at your image (and your name/logo!)
Print extras to hand out as "business cards" throughout the year; offer to clients and colleagues to have stacks for handing out in their offices
Mail as a postcard - if in an envelope, people may not open the envelope.
Simplest is usually the best: calendar with main image on one side, additional images and messages on the reverse.
If you're including a holiday greeting, we suggest to put that on the back (address side) - often people don't want to stare all year at a "dated" Happy New Year message when looking at the calendar throughout the year.
Don't forget the back side: In addition to your return address/contact info, include (additional) product/services images, lists of core competencies or major products, highlight your employees (one company has their employees sign their first names in various color inks, scan it hi-res, and we include as a holiday greeting on the backside)
Over the top:
Consider a "poster" calendar - a unique, compelling image with contemporary styled calendar - hangs on the wall to demand attention! Economical Sizes up to 24x36" - available quick turn-around (usually one week to your doorstep). Makes an impressive statement about your business, and people love posters. Contact us for details and pricing.
We will help you brainstorm fresh and innovative ideas that will be memorable in your clients' minds.


Consider a custom "Window" envelope where the diecut window hole aligns with a creative portion of the contained card to give a peek inside.
POSTAGE & ENVELOPE CONSIDERATIONS
USPS defines "STANDARD SIZES" for specific sizes and thicknesses.
The easy answer is that envelopes and cards up to 6x11.5" go for regular first-class rates ($0.45 in 2012).
Larger envelope first-class postage is $0.90
The maximum USPS-defined-Postcard size is 4.25x6" $0.32
Note that we sometimes will use the term "postcard" informally just to mean "card with no envelope" and if the card is larger than 4.25x6" it will not go for the USPS POSTCARD rate.
Always check with USPS.com or your post office for the official rules/rates.
Postage Price Calculator - USPS.com


Envelopes come in stock sizes:
A2 - 5.75 x 4.375
A6 - 6.5 x 4.75
A7 - 7.25 x 5.25
A9 - 8.75 x 5.75 (smallest envelope to fit FOLDED 6x11 = 6x5.5")
#9 - 8.875 x 3.875
#10 - 9.5 x 4.125
9 x 12 (named by their size) (smallest envelope to fit 6x11)
10 x 13


Although it's theoretically possible to use an envelope that's the same size as the inserted card, it's likely not to fit in practice. You would want 1/4" to 1/2" extra space for quick wiggle room to "stuff" the envelopes.


6.5 x 9.5" and 6.5 x 11.5" envelopes are available on special order (optional black ink printing). The lead time is about 1 month, since these are diecut made-to-order for your specific quantity.
---
SITE DIRECTORY:
Call or email us to discuss your custom needs.

(978)-286-1083
---
How it works:
You choose the text (contact info, greeting, tagline/catchphrase, etc.)
You choose the picture - we can help with stock photos if you like. But: all pictures/logos must be high resolution or vector files. (Lo-res/web images print fuzzy and would look unprofessional, thus we would not want to be involved). If you supply the image, you are responsible for copyright issues (either you have permission from the photographer and venue, or you've purchased from a reputable stock agency)
We show you a PDF sample, and make edits (labor charges apply)
You approve the PDF proof and we submit to our offset printers by 5pm ET each day.
Regarding PDF proofs: Please check spelling, layout, and other aspects carefully. Beware that different monitors and printers can render colors differently. If color balance is critical for you, please check the proof on a color-calibrated monitor. See here for more info about color balance and color calibration.
Once approved, the offset printing plates are made shortly after 5pm and usually are printed that night. Thus you need to inspect the PDF proof carefully, since you are responsible for the printing costs once approved.
Drying, cutting, and packaging time is typically 2-3 days, and UPS ground shipping can usually have them on your doorstep in about 1 calendar week from approval.
You receive an email/web-based invoice from us, that includes credit card payment options.
FEATURED EXAMPLES (6x9" sizes shown)
(Year, monthly calendar, main display picture, any logo/Name/slogan/holiday message are positioned to your specs)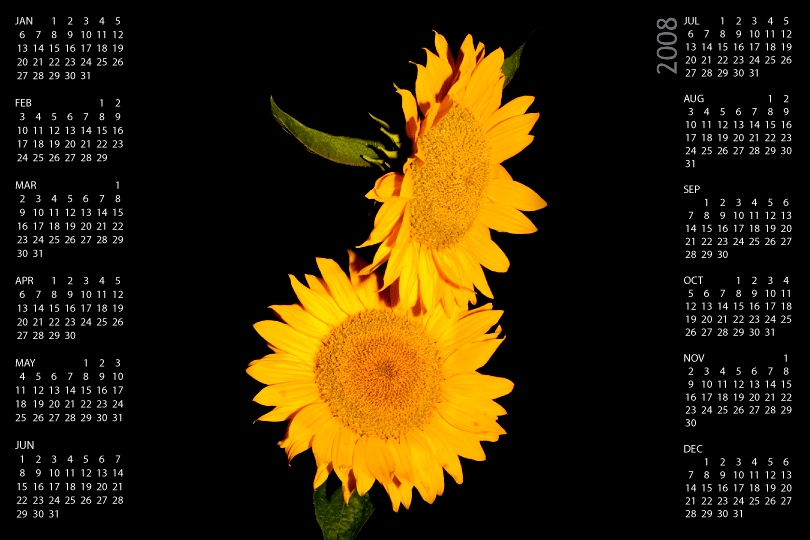 ---
POSTCARD-STYLE PRINTING PRICES
2-SIDED

(unless noted

), FULL BLEEDS, FULL COLOR BOTH SIDES
Card Price includes: Paper and offset printing with aqueous (protective glossy) coating.
Envelope (separate and optional) price includes: Blank envelopes (printing extra for return address)
Plus Massachusetts tax (if shipped to a Massachusetts address) and shipping (usually UPS ground)
Not included: Graphic design labor fees.

Note: below are our most popular sizes of cards and envelopes, call or email for other stock or custom sizes or folding.
Summary of options:
Size

(flat, unfolded size): from 4.25x 5.25" up to 11x17, or poster sizes(18x24 to 24x36)

Folding

: No fold (flat), single fold (fold-in-half), trifold(means there are two seams yielding three panels): trifold (C: folded inward; Z: folded accordion like the letter Z), or other custom folds (gate, etc.)

Quantity

: To achieve our low pricing levels, we print in standard quantities as shown below. Inquire about larger quantities we offer.
Some clients request smaller quantities. We encourage you to consider placing stacks of cards out (in your offices, as well as clients), and sending multiple cards to offices with multiple employees - some may want to take them home or give to other colleagues - if you pick a compelling image that people would want to look at year-round, your card could "go viral" and you'd use up your 500 and more.

Content

: What you want printed on front and back(can be blank). Use your photo (hi-res digital file) or our stock photography, add your text and logo.
Note: the products below are not a bound booklet that you turn the page for each new month, but rather a flat card that you hang for year-round viewing.



Contact for larger quantities
Size comparisons: Click here to see relative sizes
Quantities: Contact us for quantities other than listed.
2-sided: unless noted cards are printed 2-sided full color both sides, however the second side could be "blank" (but no discount)
Stock photos: available from us, or we can utilize your photos and logos (many of the samples below are available)
Holiday list: inclusion possible, or optionally bolded date numbers in calendar
Back side format: Specify if the back side needs to be inkjet-compatible for automated addressing labeler equipment
Pricing: All prices above are for printing only, custom design & photography costs additional (e.g., using a stock design with stock images is very inexpensive for design costs)
Contact us for additional sizes and folded cards - all at great printing prices.
Design approval: by email (or fax if needed), via Adobe Acrobat PDF files
Note 1: Consider a design where half of the year is split on each side due to small card size
ENVELOPE SIZE

100

250

500

1000

2500

6.5x9.5" white envelopes
(unprinted)
for above 6x9 or for
folded 8.5x11 cards
White, unprinted (contact us for printed return address or creative window envelopes to give a peek at your card contents)
call
for
pricing
6.5x9.5" white envelopes
printed black ink only
about 1 month lead time
call
for
pricing
Any size custom envelope
with custom die cut hole to see
thru to the card inside-
wow them with creativity!
call
for
pricing

9x12" white envelopes
moisten - gum seal,
printed full color (no bleeds)
available for quantities of
(digital press...)
100-150-200-250 and
(offset press...)
250-500-1000-2000 and up



US$180
$240
$271
$350
$540

Self-seal are more expensive and available offset printing only for quantities 500 & up


9"x12" 10"x13"
n/a
n/a
$613
$634

$785
$817

$990
$1035
Consider ordering extra envelopes and use throughout the year for routine business mailings-- add class to your distributed communications.
Note: there is typically no design (setup) charge associated with envelopes, since they are usually a simple pasting of your supplied text and a photo or logo.
---
WALL CALENDARS
PICTURE-BOOKLET-STYLE FOR HANGING
Printing Prices Starting at $750 for 250 (12-page, 5.5x8.5") "booklets". Contact us for custom design pricing.

Highlight your services or products/artworks/nature scenes for each month, per page of the calendar.
Design labor and stock photo licenses are separate.
---
OTHER SHERWOOD SERVICES

Select from additional services we provide:
---
MORE SAMPLE CALENDAR DESIGNS
6x9" card samples are available by U.S. Mail (email us to request a hardcopy sample)
6x9" VERTICAL AND HORIZONTAL SIZE SAMPLES BELOW; CLICK HERE FOR ADDITIONAL SIZES SAMPLES
BACK SIDE (IF NOT BLANK) CAN BE ANY COMBINATION OF:
ANOTHER IMAGE, ADDITIONAL INFORMATION, PRODUCT DETAILS,
HOLIDAYS, U.S. MAIL LABEL ADDRESS AREA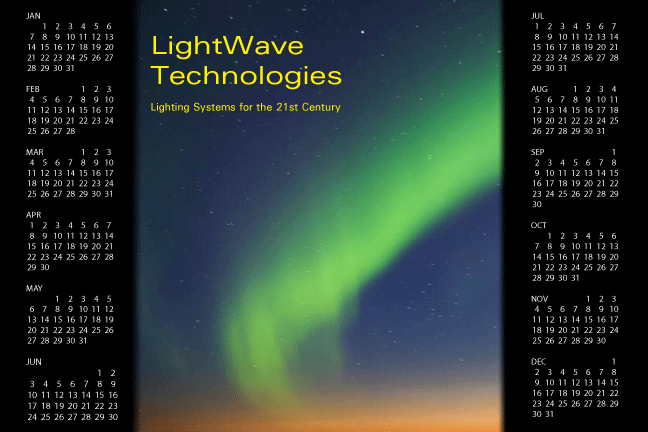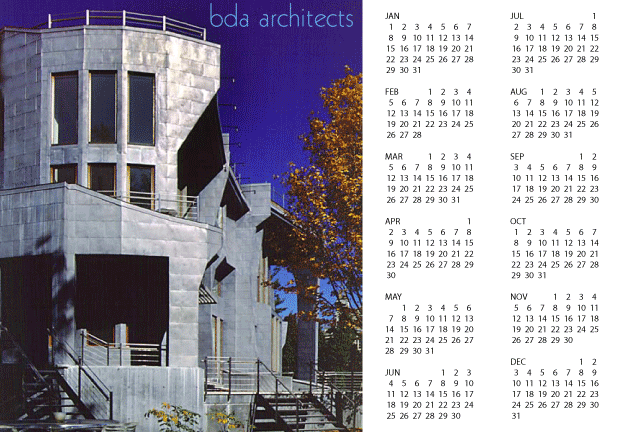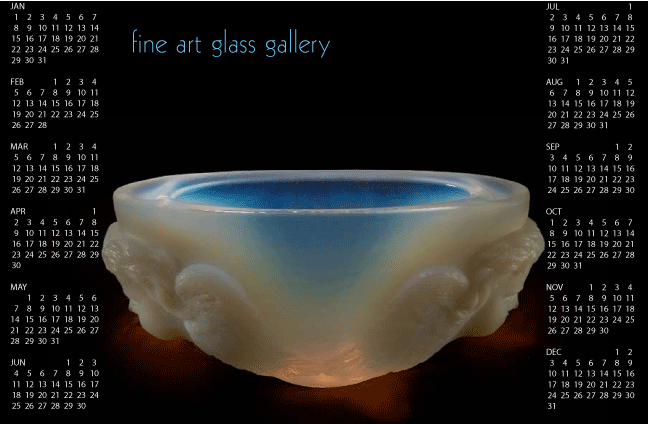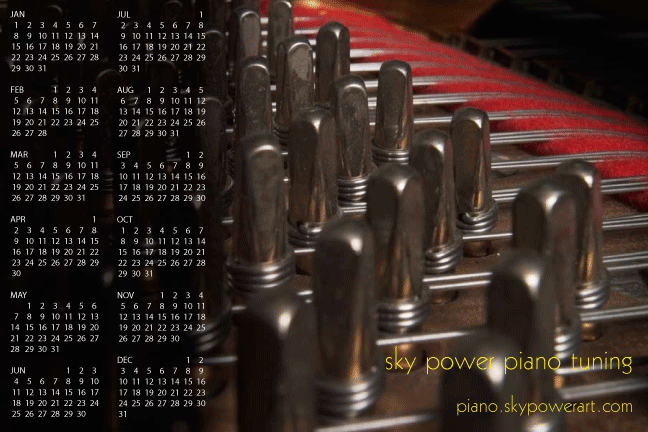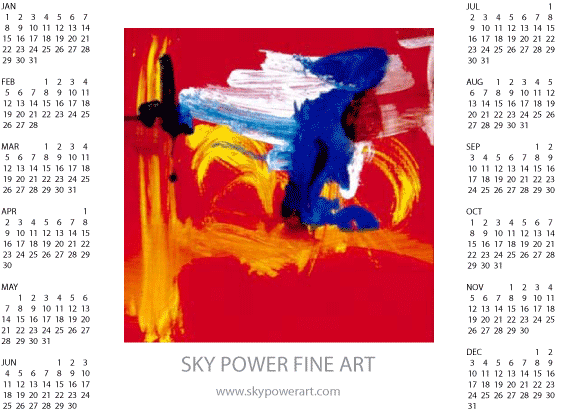 Example (for commercial photography or restaurant/caterer) of back address side for 6x9 card: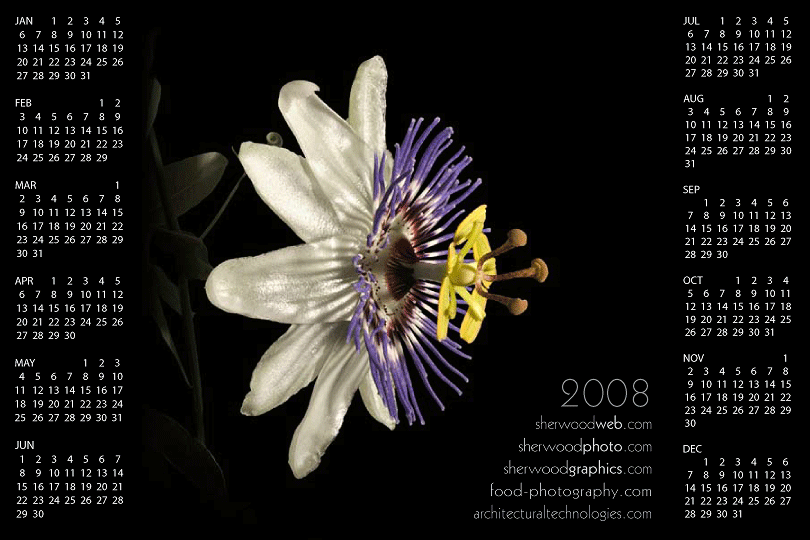 NON-PICTURE DESIGN SAMPLES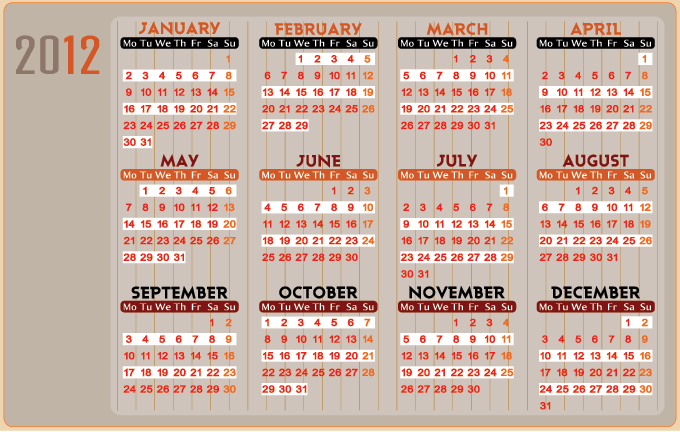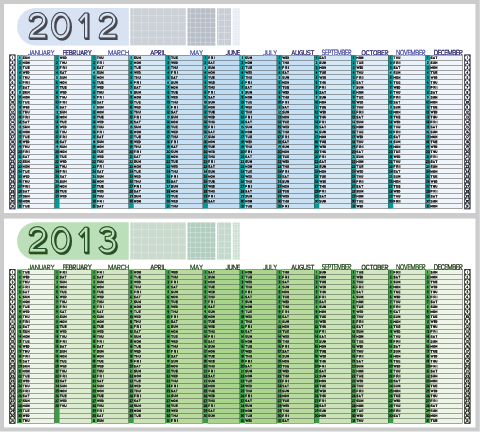 ---
EXAMPLE (for 2013)